Hair and Makeup
Specialists in Hair & Makeup Application

Weddings • Formals • Special Events
Perfectly Beautiful are hair and makeup Brisbane professionals. Our job is to take a unique approach to making you look and feel amazing for your wedding, formal or special occasion. We are a mobile service covering all locations around Brisbane, Gold Coast, Sunshine Coast and South East Queensland. Perfectly Beautiful are a team of highly professional hair and makeup artists who are here to design the perfect look for you. Therefore if you have any hair and makeup questions we are always here to help.
Perfectly Beautiful are here to help make your dream wedding a reality. You've worked hard to organise your dress, the flowers, the venue and everything else – now it's your turn to feel special!
Perfectly Beautiful's hair and makeup Brisbane based artists specialise in making you and your bridal party feel pampered, special and picture perfect on your big day.
We listen to your individual needs and work with your vision when creating your dream look.
Looking and feeling amazing is a key ingredient to ensuring your event goes down in the history books for the right reasons. An important part of preparing you for your big event is to ensure that you have a formal makeup and hair artists. As a matter of fact, we are design experts that not only understands the look you want but can implement the look you desire.
With this in mind, Perfectly Beautiful, will give you exactly that. A professional and highly talented team of formal hair and makeup Brisbane based styling experts. Our team work on you so you feel relaxed, excited and amazing for your special day. Whether you're wanting to look your best for a school formal, a formal occasion or a special event, you can relax knowing you're in great hands with Perfectly Beautiful.
Hair And Makeup

The Perfectly Beautiful Experience 
Your special day is just around the corner and we'd love to be a part of it.
At Perfectly Beautiful, of course our clients are at the heart of everything that we do. Firstly, we specialise in bringing a unique element to wedding hair and makeup for our beautiful brides. Located in Brisbane, Toowoomba, Gold Coast, Sunshine Coast and South East Queensland. Secondly, on top of making you feel and look amazing, we bring an element of fun, friendliness and calm to the atmosphere. Lastly, you and your bridal party will be left feeling extremely relaxed, glamorous and joyous.
After all, we take the stress out of wedding day preparation and time management. In fact, you can sit back, relax and enjoy your wedding day journey without having to think about anything other than saying 'I do'.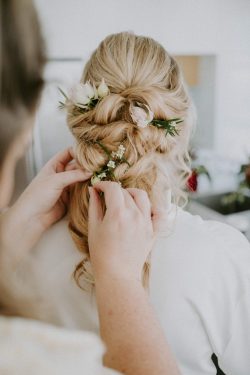 Our Unique Hair And Makeup Process

A Step By Step Guide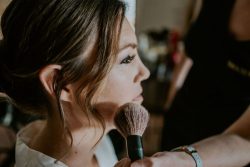 STEP 1: FREE INITIAL CONSULTATION
We offer a free, no obligation consultation service via phone, email or in person. Therefore we connect and discuss the event you are preparing for. Our team cover the overall desired look you are aiming to achieve, the theme you have in mind and talk about every requirement you have. To sum up we discuss options that might be suitable if you aren't sure what you are after.
In this case, we can cater for all kinds of styles so are open to any photographic samples or magazines that you have as inspiration. Our amazing team work with brides anywhere from Brisbane, Toowoomba, Gold Coast, Sunshine Coast across South East Queensland.
Perfectly Beautiful will work to your vision and listen to your needs, so you can trust that you will get the professional support and service that you deserve.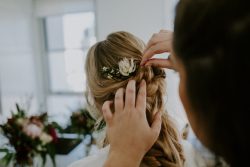 STEP 2: TRIAL RUN DAY
A makeup trial is something brides often invest in. It is a fantastic way to experiment with different looks ahead of the actual wedding. This way you can have peace of mind knowing that there will be no surprises on the day.
Don't however, feel pressured to schedule a makeup trial. We understand that not everyone needs or wants one ahead of their wedding.
Besides, if by any means you do decide against doing a makeup trial run, you can rest assured that your makeup done by Perfectly Beautiful on the day will be just that, perfectly beautiful.
STEP 3: WEDDING DAY
On top of professional wedding makeup, Perfectly Beautiful are experts when it comes to panic control and time management. Wedding days can often be chaotic. Ultimately we can help alleviate some of the stress that comes along with beauty preparation for such a big event.
Our reliable and fully mobile team will come directly to your home, hotel room or wedding venue. As a bride, you don't have to worry about travelling or needing to get to us on time on your wedding day.
We'll come prepared and have all of our makeup products and tools with us to accommodate for any-sized group. Whether it's just the bride, or an entire wedding party, our team are their for you.
Once we get to you, we'll create a fun, enjoyable and memorable atmosphere where everyone can just sit back and relax. So go ahead and put your feet up, have a chat, take some pictures. Perfectly Beautiful will take care of the rest and be out of your hair in no time (literally)!
BOOK A
FREE CONSULTATION
Our free consultation process is easy.
Simply complete the form below and tell us a little about your event and we will contact you back to discuss your needs.
Whether you need to talk to us in person, on the phone or via email we're here to help.