After 12 years as a wedding hair and makeup artist working in the industry we get asked many questions around hair and makeup for your wedding day. Perfectly Beautiful are going to be answering any of your questions that you might have around the whole wedding industry. This means any questions that you have as a bride that you want answered. So let's get started.
Should I book one specific wedding hair and makeup artist? Or a makeup artistry company with multiple makeup artists?
It depends on the size of your bridal party and how many people you need makeup done for. Knowing the size will determine whether you need a single makeup artist or a company who has multiple makeup artists. If you have a smaller group of three or four people, then you could go with either a single wedding hair and makeup artist or a larger company. Whereas, having four or more ladies makeup done, it would be suggested going with a makeup artistry company. This way you can book your whole wedding party with the same company. This becomes a lot easier than trying to find two separate wedding hair and makeup artists to come on the day.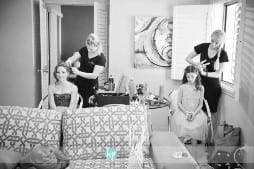 What am I asking for when asking the makeup artist for bridal makeup?
Bridal makeup, what does that mean? There is no specific type of makeup look when it comes to bridal makeup. It simply means that you are a bride and that you want your makeup done for your wedding day. Now, each individual person has an individual style and look. Some people are used to wearing a lot of makeup and some people are not used to wearing much makeup at all. Using the word bridal makeup doesn't necessarily mean that there is one look. When you meet your makeup artist at a trial or on the day, talk to them about the look that you want. The look that is specific to you and what you are used to wearing. Because at the end of the day, you want to enhance your features and feel comfortable with the makeup look that they are applying on you.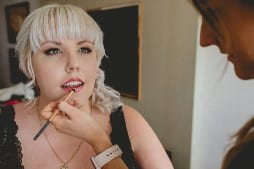 Which hairstyle goes with what dress neckline?
Now we all want to find the perfect hairstyle to suit the wedding dress and our overall look. So what you need to do is choose a bridal hairstyle look that not only suits your gown but your face shape. Whether you decide to have an updo or a down style, having a discussion with your hairstylist is a great way to find the perfect look for you. Making sure that you also feel comfortable and beautiful and having a trial before to see if it's what you've always dreamed of.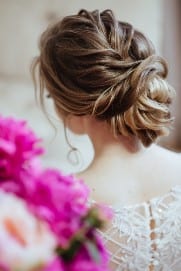 How much should you pay for a wedding hair and makeup artist? How much does it usually cost?
Firstly, it depends on the level of experience the wedding hair and makeup artist has. The more experience the higher the amount you will pay. An experienced makeup artist may charge anywhere from around $100 to $150 per person for makeup. Then $100 to $150 per person for hair styling. Someone who is starting out might charge a little bit less than that.
Since it is your wedding day we would recommend going with someone with a little bit more experience. The reason being they are not only more experienced with working with brides, but they know what they're doing on the morning of your wedding. They know how the day runs, they know how it works. They're also there to be supportive and help you with your morning to make sure that it runs smoothly. Have a look around at the different pricing everyone has. You will get an idea of what you're paying for and the type of experience the artist has and the level of work that they provide.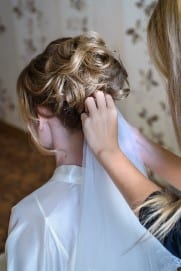 How do I make sure my makeup looks good all day?
The best way to make sure that your makeup lasts all day is to have a really good skincare routine before the big day. For example, having an amazing skincare routine which includes, moisturizing, cleansing and making sure that your skin is hydrated. Also sleeping, doing a bit of exercise and eating really good foods. On the big day make sure that your wedding hair and makeup artist is using a good primer. Maybe a setting spray or making sure that they are finishing it off with a powder over your face. Before they leave they do any touch-ups and a bit more powder to make sure that that lasts all day. If you do have a professional makeup artist, your wedding makeup should last. There is no reason why it should be melting off! If they know what they're doing and they're using professional products, you shouldn't have a problem at all.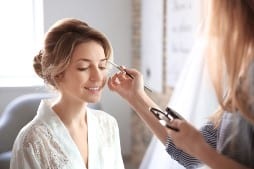 Perfectly Beautiful hope these questions and answers have helped you plan the wedding hair and makeup for your special day. If you do have any more questions, we can definitely answer them for you at any time.