The time has arrived to book in your makeup and hair artists. You have done all the research and found the perfect match for you. Then they ask if you would like to have a wedding makeup and hair trial. You might ask yourself, well what does that involve. We explain everything you need to know about what will happen during your wedding makeup and hair trial.
Sit down relax and chat about what you envision.
The first step in having a wedding makeup and hair trial is sitting down and having a look at some photos to get some ideas of what you envision. We will discuss the type of dress you're wearing and colouring of your bridesmaid's dresses. This will give us an idea of what colours to use for your wedding makeup. Then we will discuss the length and type of hair you have and what hair style will suit the dress. This will help us make sure we are on the right track to perfecting your look.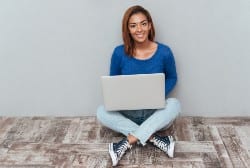 Discuss the finer details.
We will work out the smaller details. For example whether you like a heavy or light coverage for you foundation. Whether you like your eyes darker or lighter and your brows defined or natural. That way the hair and makeup artists can get a great visual idea of what they are going to be applying on you. We can really personalize the look you are after during your wedding makeup and hair trial. Once we've gone through the exact look that you're after they will then apply the makeup.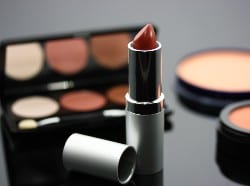 Apply the wedding makeup look.
While the makeup is being applied we will show you step by step what we are doing. So we might do a lighter eye application, get you to have a look at it and if you want to darken it up, then we can. It's a great way to also try airbrush makeup application if you have never had it. The foundation coverage can be adjusted at this time to make sure you get the perfect coverage you want. Then once the makeup look is completed, we can go through and make any changes if needed. On the wedding day, we will know the exact look that you are after.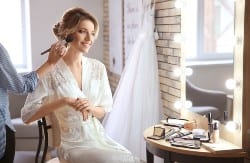 Style the wedding hair look.
Now for the hair. Once we have decided on the hair style you love we will trial the hair look. We can decide if you would like hair around your face or it all completely back. During the wedding makeup and hair trial if the hair is up, we'll go through all the little details about what exactly is going to suit your face shape and hair type. Once we have personalized a hairstyle just for you, then we will start styling your hair. We'll usually have a mirror that you can hold and watch it transform. We can do this step by step to make sure you love it and it's perfect. Once the hairstyle is completed, you can have a really good look at it and see if that's what you envisioned. If you want any adjustments, then it's so much easier to do that at the trial.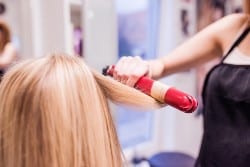 To finish it all off.
Once you are happy with the makeup and hair, you're all done. We would take some photos of your wedding makeup and hair trial and the products that we have used. On the wedding day, we can then come in and know exactly what we're doing. You will then have that peace of mind knowing exactly what you're going to look like.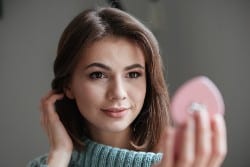 At the end of the day, having a wedding makeup and hair trial is a great idea. It helps you feel more relaxed on your wedding day and know exactly what's going on. All the finer details have been discussed, the hair and makeup artist knows what they are doing. Everyone is happy and you can really enjoy your day.