Your wedding day is the best day to stand out in the crowd! What more fun way to do so is by choosing your wedding makeup and hairstyle look. If you find yourself steering away from the traditional Aussie bridal pack, then go for the modern, fresh and edgy trends in wedding makeup. Brisbane guests at your party will surely talk about it. Here is a rundown of unique ideas for that spectacular look for walking down the aisle.
Elegance in Natural Makeup
Picture a wedding makeup by Brisbane artists that is barely there. Nothing is more timeless than natural makeup that shows off satiny glowing and hydrated skin. Focus on the naturalness and luminous effects of gold, bronze, and pink shade mixtures that are intensified by the colour of the eye.
To keep your makeup looking youthful, add a touch of pink on to your cheeks. For a natural-looking flush, apply neutral pink blush high on the apples of your cheeks, keeping close to the nose.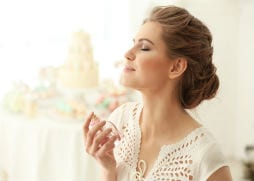 A Pop of Colour
People are starting to be okay with colour. A great way to balance it is to keep the skin bare. For a bold lip, glossy or matte purple hues are the newest trends on the bridal fashion runways. You can also swap your classic red lip for a rust-coloured lipstick.
If you want the eyes to stand out, try on a mod-inspired eyeliner look with its thick wingless line. Or maybe, swap the usual black cat eye for a metallic silver wing. You've probably never seen a wedding makeup on Brisbane brides like this before. Pair it with a barely-there foundation and a glossy lip to let your eyes do all the talking.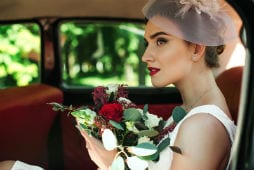 Embrace Texture
The face-framing finger waves will give you the edge of 'Old Hollywood' on your big day. The best part is it works on all lengths.
For long hair, you can go with hairstyles that leave the hair fall soft with waves or smooth from root to ends. Don't overdo the hair spray. You will want it soft and have movement. A day-before hair mask will ensure the strands are well hydrated on your big day. Above all, it is the hairstylist who creates a perfect harmony between dress, face-type, wedding makeup, and Brisbane fashion sense.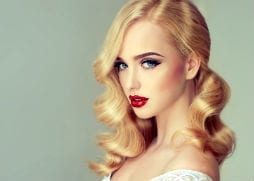 Dare to Accessorise
Spice up your half-up wedding hairdo by considering a sleek and modern braided look. You can dress it up by going big and bold with fresh blooms and florals. You can also shine bright with sparkly headbands, encrusted with jewels and pearls. These glamorous pieces will accent your wedding makeup on your Brisbane wedding.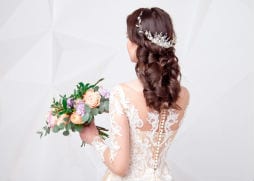 Modern Bride Is a Confident Bride
Nothing stands out more than a Brisbane bride who exudes confidence and joy on her big day. The best way to achieve this aura is to diligently find your perfect modern style. Share photos of what you like with your hairstylist and wedding makeup artist in Brisbane. Try the look you want a few times weeks before you tie the knot, so you have it perfect on your wedding.