Planning a wedding takes time and preparation. The magical day is nearly here and you want the day to run smoothly. One important part is making sure your wedding day makeup is exactly how you dreamed it would be. As artists working in the industry for many years we have seen it all. Perfectly Beautiful have put together a few wedding day makeup mistakes to avoid so you look and feel your absolute best.
Should I do my wedding day makeup myself or should I hire a professional makeup artist?
You may be used to doing your own makeup all the time, but since it is your wedding day, the nerves are running high and you may be a little bit stressed out. The last thing you want to do is apply your wedding day makeup. Even though you are used to doing the same look you love, it doesn't mean that doing it yourself is a good idea. Hiring a professional wedding day makeup artist is a great way to go as they know what they are doing. What a professional makeup artist does is give you that natural, beautiful look. They can enhance your features to ensure you feel like yourself without adding that extra stress to you on your wedding day. As a result you feel nice and relaxed. The professionals come in, do their thing and when they leave you feel and look amazing.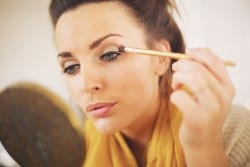 Wearing too much makeup.
You might be used to wearing makeup every day, but this doesn't mean you have to overdo it on your wedding day. Having a heavy thick coverage will look like it's caked on. We suggest you go for the natural look, with good coverage. Hiring a wedding day makeup artist will be able to achieve the all-natural look by enhancing your features so you a photo-ready. Make sure that you look and feel yourself. If you're used to wearing a smoky eye or red lip, discuss this with them to decide whether this is something you want to have on your wedding day. Or you might want to go with just that little bit more of a natural look.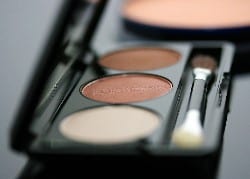 Should I have a wedding trial?
Yes, having a trial is important if you want a certain look. Some ladies might not be in the financial situation and will skip a trial, but as this is your wedding day. You will only be doing it once, it's a good idea to not skip a makeup trial. The reason being is when you have a trial with your makeup artist they will come in and sit down with you and discuss the perfect look for you. If you don't like something, it is easy to change it at a trial. For example, if your eyes are too dark, they will know for next time to lighten it up. Or if your eyes are too light, it is easier to darken it up. The last thing you want is to be stressing about this on your wedding day.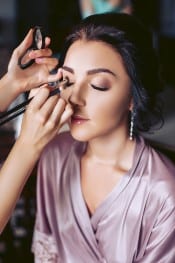 When you have a trial, preparing for a trial is super important.
Have some ideas or a vision of what you want to look like. For example, have some images ready and talk to your makeup artist about what you are used to wearing and what you envision for your day. That way the makeup artist can get an idea of what you want and create the perfect look for you.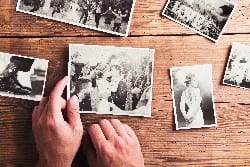 Use waterproof mascara.
The last thing you want on your wedding day is to be tearing up and your mascara starts running down your face. If you have a wedding day makeup artist they should apply a waterproof mascara. But if they happen to forget, give them a little bit of a reminder. Or double-check with them that everyone, including yourself is having waterproof mascara applied. This will be a lifesaver for yourself and everyone that might get a bit teary. No one wants Panda eyes by the end of the day.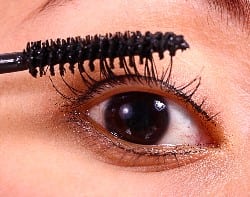 Should I use a setting spray?
What setting spray does is it sets your makeup and your foundation so that it lasts all day. Your wedding day makeup artist should be using professional products that lasts all day and night. But having an extra barrier of protection will definitely help ensure that your makeup lasts all day long.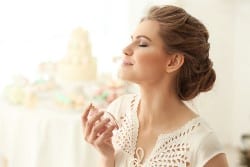 Don't try something new!
A huge mistake brides often make is they decide to try something new on the day. They might have always dreamed of having a red lip or smoky eye. Be aware this is not something you want to be trialling on your wedding day. Go with something that you are used to wearing. Talk to artist about what you are used to wearing and what look you want on your wedding day. They can give you some great ideas and definitely guide you in the right direction. The last thing you want is to look back on the photos and have regrets.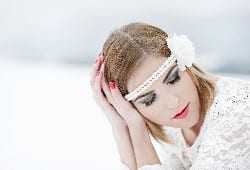 Glossy, creamy lipstick.
How would you feel if your veil flew into your face and got caught in your lipstick? Then you have a big pink, red or brown stain on your veil. Keeping with a matte texture is a great idea. Ask your makeup artist if they have a long-wearing lipstick. That way it lasts longer and won't come off onto your veil, dress or when you go to kiss your new husband no marks.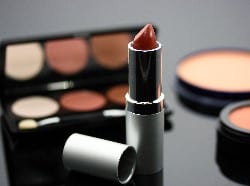 It's your wedding day and you want to be looking and feeling your absolute best. So keeping with what you know and the basics, it's always a great idea. Speaking with your wedding makeup artist about what they recommend and taking their advice is always a great idea. At Perfectly Beautiful we sit down and listen to your every want and need. Our goal is to personalise the makeup look you are after and help your day be one to remember.