Choosing the right bridal hair and makeup for any summer-themed event can be tricky. There are a lot of things to consider, especially if it is going to be your wedding. With the sun shining down on your skin and the wind blowing through your hair, a lot of things can go awry when it comes to your look, which you will surely want to avoid. If you want to make sure that you look dazzlingly beautiful throughout your wedding day, check out these pro tips on bridal hair and makeup from Brisbane makeup artists.
Perfecting Your Crowning Glory
Considering that your wedding is summer-themed, you should prepare yourself for humidity and sun damage. Even if you hold the whole celebration in a shady area, but the humid air can still cause your hair to frizz and become unmanageable. Look great the whole day by following these tips from bridal hair and makeup Brisbane artists and brides.
• Apply a hair product with UV ray protection to help you avoid dull hair on your big day.
• Use a light leave-on conditioner or smoothing serum to keep frizzy hair at bay. But be careful not to overdo it or your hair might go limp and greasy.
• If you are holding your ceremony and reception outdoors, with the wind blowing strong, it may be best to choose a hairdo that won't get blown away by the wind quite often. An updo, stylish braids or even a half up can be a lot easier to manage than long and flowing locks.
• Choose your accessories wisely. Aside from beautifying your hair, it can also do a double duty of keeping your hair in place no matter how windy it might turn out.
• Work with an expert on hair and makeup in Brisbane on your wedding day. This will help you enjoy your wedding better, without having to worry about how you look. Your hair and makeup artist will be on standby to take care of your look throughout the event.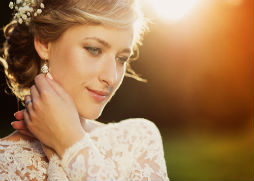 Shine-Free and Grease-Free Makeup
The foundation you choose to use on your summer wedding can make or break your look. For a summer wedding, you will want to go for a shine-free makeup so that people won't think that your face has gone oily because of the humidity. Here are some makeup tips that pros on bridal hair and makeup in Brisbane swear by:
(bullet list)
• Use an oil-free moisturiser.
• If you have smooth skin, you can choose to skip the foundation to avoid looking oily after a few hours. This will also help eliminate the need for further touch ups later on.
• Choose an oil-free foundation, if ever you decide to use one. You should also prepare your skin using an anti-shine skin product. Use powder after foundation.
• For your eyes, avoid using creamy eyeshadows which may tend to oil up. Finish up your eye makeup with a liquid eyeliner as this will stay on longer.
• Say yes to waterproof mascara. Weddings usually bring out tears, so you'd best be prepared to shed some happy ones.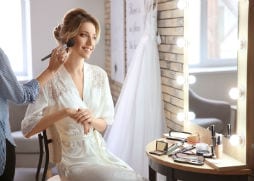 Hire a Professional Hair and Makeup Artist
All eyes will be on you on your summer wedding, so look great the whole day with the help of a trusted bridal hair and makeup Brisbane-based artist. At Perfectly Beautiful, we can help you achieve the summer wedding look you want. We'll use the right products for the season and help you with the necessary touch-ups on your big day.