Your mum has cared for you for all your life. She's a special person in your life and of course the mother of the bride to be. So on your wedding day you want to make sure that she is also looking and feeling amazing as well. The spotlight is on you as a bride and so your mum might be feeling a little bit overwhelmed. We want to make sure that she also feels pampered and amazing, as well as you do. Here are some tips about how to plan the mother of the bride hair and makeup and how to make them feel as special as you do.
Skin Care
First of all, is her skin care regime. She may already have one, or she may not. But have a little chat to her about what she's currently doing to look after her skin. Have a girls pampering day and get hydrating facials and oxygen plumping treatments. This will help her skin look beautiful for the big day as well as yours.
Talk to her about using facial creams leading up to the big day. That way her skin is going to look nice, fresh and hydrated. It will help her makeup and foundation look absolutely flawless. Doing something fun, like going and getting a facial together just before the big day is something great for both of you. Anything that will make her as the mother of the bride feel more confident so that her skin is nice and fresh for the day, as well as yours is.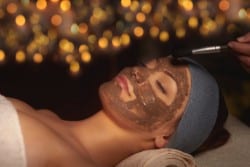 Mother of the Bride Makeup Application
Talk with your makeup artist about using a conventional makeup for the mother of the bride. This is when the foundation is applied with a sponge or brush rather than getting airbrush makeup. The reason for this is the foundation can then be buffed into the skin instead of sitting on top of the skin and seeping into those fine lines and wrinkles. The makeup artist can smooth out the skin using slightly less foundation, so she still feels like herself. Also, make sure that the makeup artist uses a really good moisturizer and primer on top of the skin before she has her foundation applied. That way it will help fill in any of those fine lines and wrinkles, and it will help her look and feel younger on your special wedding day.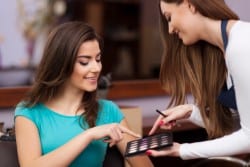 Don't forget the eyebrows
The last thing a mother of the bride wants is to have crazy eyebrows. So why not take your mum to go get her eyebrows shaped. Now eyebrows are considered the border of your face, so it really shapes your face and finishes your look. If she's not used to having her eyebrows waxed, then maybe go to the salon together and just get them fixed up and trimmed. This will make a big difference on the wedding day as having beautiful, amazing eyebrows will help your with your overall makeup look. As a result, it will help lift your eyes and make them look more open.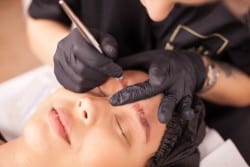 Mother of the bride hairstyle
She may be used to getting the same hairstyle that she's always used to having. But discuss with her and her hairdresser about potentially putting some foils in to lighten up the hair. Or take away some of those grey tones. If she does have more grey through her hair, having a little bit of a freshen up of colour just before the wedding day while help her look and feel younger.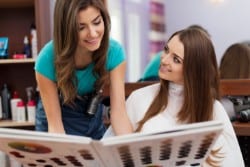 Lash extensions
Just because you are the mother of the bride doesn't mean you can't wear temporary lash extensions. Putting on some of those full bar false lashes or just a few single ones makes a huge difference. What this does is it opens up your eyes and just adds a little bit of extra length to them. We recommend using Model Rock Lashes for the natural looking lash look. This will result in bigger looking eyes that she will love.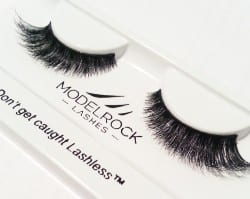 On the wedding day it's all about the bride and we sometimes forget about the mother of the bride. But remember she is the one that brought you into this world and has been there for you. So you want to make sure that she also feels and looks amazing too.