The wedding industry is forever changing and brides are becoming more creative with how they imagine their wedding day. The same goes for the way they want to look including their bridal makeup look. Of course you want to match your bridal makeup look with the theme of your personalised wedding. So we are here to explain makeup looks for the modern bride. Including some great makeup looks for those who want to be a little bit different and a bit more modern and hip on your wedding day.
Winged Eyeliner:
Our first is something that has been around for a while, but is not traditionally a bridal makeup look. This is for the bold bride who is all about the eyeliner. Beautiful thick eyeliner that shapes their eye adding a sharp wing towards the end. Barely any eyeshadow is used to help this eyeliner stand out from the crowd. So it's pretty much all about the eyes and all about that cat eye look with maybe some big bold lashes.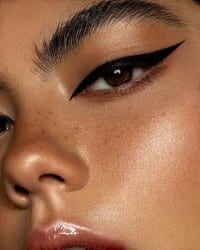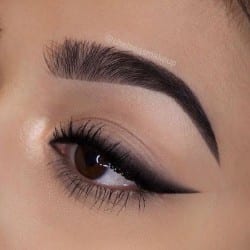 Cheeky Peaches:
Our next modern bridal makeup look is cheeky peaches. Using lots of corals and peach colours, which have been popular in the wedding industry. Those warm, beautiful tones that people are loving at the moment. Pop some peach tones on the eye and match it with a peach coloured lipstick. This look is great if you're having a summer beach wedding and want to have that summer glow.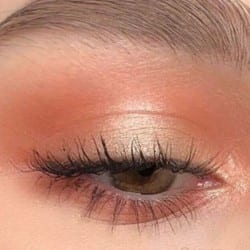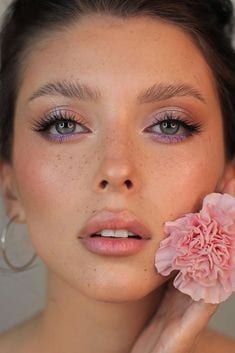 Dewy skin:
This is the modern bridal makeup look for brides who want that fresh skin look with a bit of shine and glow. Why not try that shiny, glossy, dewy skin that makes you look like you are really glowing. Instead of using lots of powder to create that matte look, change it up for a finishing spray to set the makeup and leave the powder alone. It will give you a radiant, pure finish that makes you look like you've been sun kissed.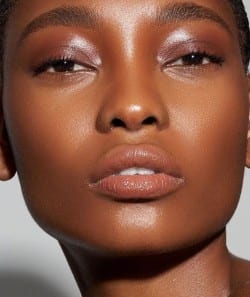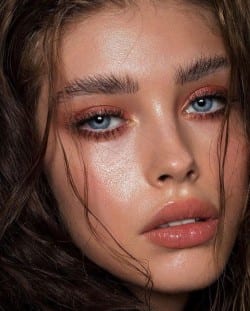 Cool it down:
If you prefer the lighter tones, then why not cool it down with your cooler toned white and blues. Especially if you're having a winter wonderland wedding. Using silvers, light greys and glitters as a soft eyeshadow bridal makeup look. Lightening up everything with highlighters and nude lips.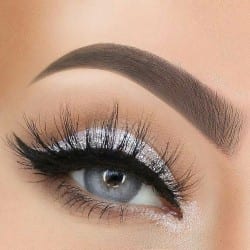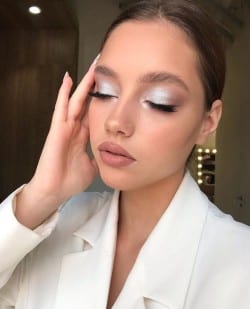 Romantic Vibe:
If you're into the romance side of things, then the modern makeup look of a romantic vibe is for you. Soft pink colours, actually pretty much pink, everywhere, pink eyeshadows, pink blush and pink lipstick. Of course you want the look to complement each other with a touch of shimmer. Creating that real feminine side to the makeup look. And if you've got a pink themed wedding, why not match it up with beautiful pink looking makeup.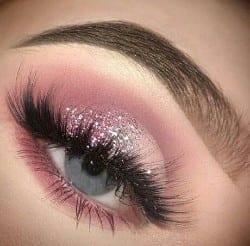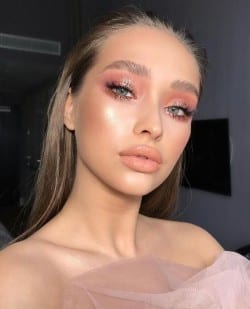 Bronzed Babe:
Lucky last for our modern bridal makeup look is our bronzed bride. These are the days where girls love their tans and love their bronzed glowing look. So why not incorporate that into your wedding? Have that beautiful, bronze to skin and match it up with your makeup. Makeup that looks like your barely wearing any makeup. Apply a nice lip tint to add colour into your lips, with bronze coloured eyeshadow with a touch of gold. Instead of wearing a pink blush use a neutral bronzer. Keeping it really simple with that beautiful bronzed natural look.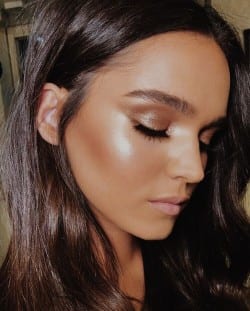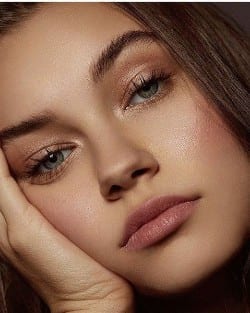 At the end of the day it's your wedding day and each bride has a certain bridal makeup look they are after. There's so many different options out there to really personalize your makeup look. It's exciting how you can personalise the perfect look for you and go something a little bit different. If you need help deciding the perfect bridal makeup look for your special day Perfectly Beautiful are always here to help.