Flower crowns have taken the wedding industry by storm. We are seeing more and more brides wearing them for their wedding, bridal shower and hens. But not a lot of ladies know there are different types of flower crowns. So we are going to teach you everything you need to know about wearing a flower crown for your wedding or special occasion.
Flower crowns are beautiful and they are really in fashion at the moment, especially if you're going for more of that boho or beachy look. Some women are opting for a flower crown rather than having a veil or another hair accessory in their hair.
Real Or Fake?
Real Flower Crown –
Creating a real flower, flower crown has its pros and cons. Firstly the smell of fresh flowers in your hair let's face it, is amazing. When choosing a real flower crown though, there are different things that you need to think about. So depending on what type of flower that you are wanting in your hair will depend on the season that you have your wedding or your special occasion. If there is a certain type of flower it may not be in season which means they might be getting them sent from overseas. The problem with this is the flowers aren't going to last all day and depending on the flower that you choose it could be really fragile and fall apart. So when choosing a real flower crown, you really need to sit down with your florist and discuss exactly what types of flowers that you are after and style you envision.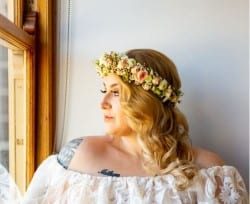 Fitting your real flower crown:
As you will not be receiving your real flower crown until the day, you need to discuss with them the shape and the size of the crown. That way you know exactly how it's going to sit on your head, so make sure that they take measurements of your head. You want it to fit exactly on your head so show them the hairstyle that you will be having. The florist will incorporate the flower crown into your hairstyle so that on the day it will fit perfectly.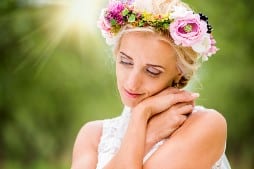 Fake Flower Crown –
Now, luckily these days you can find some amazing fake flowers. And if you find the right designer to create and make a fake flower crown, then this is definitely a way to go. The reasons being, if you have fake flowers, you don't have to worry about them discolouring and drooping on your big day. By the end of the night, you also don't need to worry about any of the petals falling out. Now some problems with a fake flower crown can be that they might look fake. So if you buy one that is cheap and doesn't have high quality fake flowers, then you may not get what you are after. But as mentioned, if you find someone that does amazing fake flowers, this can be fantastic.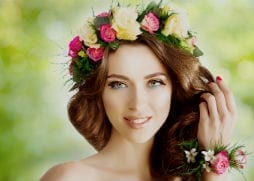 Fitting your fake flower crown:
With a fake flower crown the great thing is, you can order this in advance. You can then make sure that it is shaped to your head properly. When you go see your hairstylist and have a trial run with them you can bring your crown so you know exactly how it is going to fit on the day. There's no surprises because that's the exact piece you will be wearing.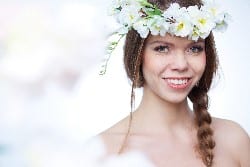 When choosing the perfect flower crown for your big day have a look around and see what is going to best suit you. If there is a rare or special flower that may not be in season, fake flowers may be the way to go. Or if you love that fresh flower smell why not have a real one. Just something to think about with the real and fake, they both have their own pros and cons and it really is about what you are personally after.
What style should I wear?
Some other things that you need to think about when designing and ordering your flower crown is what type of crown you want to fit your head. There are a couple of different types you can choose from and these are, your full round crown and half-crown. The full round flower crown sits on top of your head and goes right around. Whereas your half-crown sits on the top of your head only and then you have ribbon going around the sides and underneath. Depending on what type of hairstyle and what type of look you are after, will determine what will suit best.
The next thing you need to think about is what type of hairstyle you are wanting to match your flower crown. A lot of ladies are going for the full crown with their hair down in big waves and curls. This looks absolutely beautiful with a full round flower crown. If you opt to have your hair slightly up, or to the side or up at the back then we would recommend going for the half-crown. That way it is not covering up any of the beautiful up styling that you have in your hair.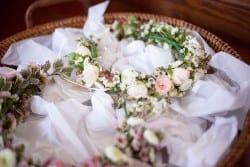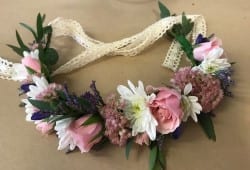 When you go have a hair trial discuss with your hairstylist about what you are thinking and what type of flower crown. That way they can help guide you in the direction of what will work best. Also talk with your florist or flower designer to guide you as well. The professionals are always there to help you in the right direction to having the perfect crown created just for you.