The cost of wedding hair and makeup can range from different amounts depending on various things. Prices can range anywhere from $150-$600 per person for wedding hair and makeup.
The reason why it varies so much, depends on the experience of the artist. If they have a team, the different types of products they use. The hairstyle you choose, if there's any travel or any additional costs. It varies depending on what type of look you want and what type of professional artists you are after.
Your wedding day is a day that you want to make sure that you're looking your absolute best. As a bride you want to make sure that you feel and look beautiful on the day. This is one of the most happiest days of your lives. There will be lots of photos that you will be looking back on for years to come. So making sure that you find the right wedding hair and makeup artist for you is incredibly important.
What are the costs of wedding hair and makeup?
The first thing you'll need to do is a budget for what your wedding hair and makeup costs might be. For bridal hair and makeup you might expect to pay anywhere from $150 to $600 for your hair and makeup. Typically the costs of wedding hair and makeup is around $300 on average. This will include your professional wedding hair and makeup stylist. As well as airbrush application, lashes, whatever hairstyling you're wanting and travel. Different artists will charge different amounts depending on what their package includes. They should be able to personalize it to you, to make sure that you are getting the best for your money.
Then we have the costs of wedding hair and makeup for our bridesmaids. This may be around the same type costs as your bridal hair and makeup, or it might be slightly less. Again, it depends on what the artists charge. Some makeup artists and hair stylists will charge the same as bridal hair and makeup as they are providing the same service. But it depends on what type of hair and makeup they are after.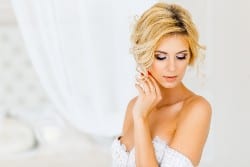 What should be included in the costs of wedding hair and makeup?
The average costs of wedding hair and makeup should include the basics. For example your foundation application, makeup application which is your blush, eyes and lips. Then you can think about if you want airbrush makeup, conventional makeup and lashes. For hair it depends on what type of hairstyle that you are having. If you've got short hair and you're just having a blow dry, it might be cheaper than if you're having an upstyle, but usually, there is a baseline cost for everything.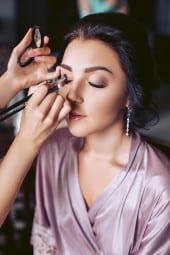 What additional costs are there with wedding hair and makeup?
The costs of wedding hair and makeup will vary considerably depending on the type of makeup application that you're after. If you are wanting to go for airbrush makeup, the price will be slightly higher as the product costs more and the application is more specialized. If you want lashes, this will also be an additional cost. Some makeup artists will include lashes in their costs and some will add them on later. Make sure you check with your artists to see if this is something that is included in the prices or not. Another thing to think about is your location. If you are getting ready in a central location to where the hair and makeup stylist is, then you may not need to pay any travel fee. But if they're going to be travelling half an hour or more there may be a fee for that. Ask your makeup artist and hairstylist whether there is going to be a fee for the location that you are going to be getting ready at.
For hairstyling the cost may vary depending on whether you're having your hair down or up. You may require certain hair pieces, for example, hair extensions, hair doughnuts and any hair accessories.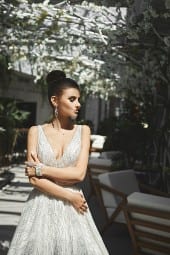 The costs of wedding hair and makeup trial?
Another cost that you need to think about is if you are going to have a wedding hair and makeup trial. Make sure that you budget in that as well. We always recommend a trial as on the day it is easy for the artists to come in and do what they need to do. Each hair and makeup stylist is different and will charge different amounts for a wedding hair and makeup trial. Some hair and makeup stylists will charge the same amount as the wedding day, and some will have a set fee.
This may cost anywhere from about $150 to $300 for your wedding trial.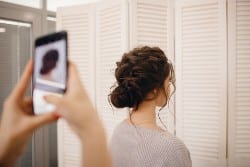 Before you start looking for a makeup artist and hairstylist, write down a budget of what you feel comfortable paying. Then once you start inquiring, you'll start to get a little bit of more of an idea of what you're going to get for your money. Once you have this all figured out, then the best thing to do is book your wedding hair and makeup artists. We recommend that you book it in no later than three months in advance and anywhere up to a year, even two years in advance.
Once you have chosen someone, have a chat with them and make sure that they do up a quote. As a result, you know exactly what you're paying for. And there will be no hidden costs that come up afterwards.