Organising and planning a wedding can be an enjoyable but stressful time in your life. All Brides dream of a magical day where everything falls into place. Choosing who joins you in this special time can be difficult. You want the best of everything and need suppliers who are reliable, easy to communicate with and who will make your dreams become reality. Wedding Hair and Makeup are one of the most important factors of your day. Your makeup artist will be with you for the morning part of the day making sure you not only look and feel beautiful but also have a relaxing experience. At the end of the day, how do we choose who will stand up to our needs and wants? Perfectly Beautiful have some helpful tips in choosing the right wedding hair and makeup artist for your wedding day.
Start Researching Early
Firstly, you need to start looking for your wedding makeup artist early. Starting around 6-9 months before your wedding date is recommended. As a matter of fact, asking friends and family that have recently been married to see if they might suit your style is a great place to start. Gathering some ideas of what types of hair and makeup looks you like is a great way to start visualising what you may want. Then once you start researching you can compare artists to see if the makeup artist suits your desired look.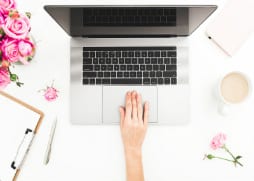 Read Their Reviews
Take some time to read reviews about your selected makeup artists and hair stylists. Make sure they have a good track record and take note of what other brides have said about them. Check that they are qualified as many makeup artists can say they are able to do makeup but do not have any qualifications. You want to make sure your makeup artist in highly professional and has experience in the wedding industry. From there you can find the perfect hair and makeup artists to start contacting.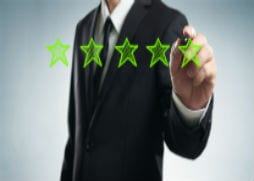 Trial Or Not To Trial
Having a wedding hair and makeup trial is a great way to get to know your artist. This way you can see if they are the perfect match for you. By having inspirational photos ready to go, the hair and makeup stylist can get a sense of what look you are after. Once they have designed the perfect look for you and the trial is completed you will know exactly what you will look like on your wedding day. That way you will feel nice and relaxed on the day, knowing you will look and feel Perfectly Beautiful.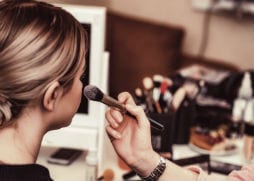 What Products Are They Using
These days there are many different hair and makeup products on the market. Make sure your artist is using highly professional and long lasting makeup products. If there is a certain brand you like, ask if they have it or if you have sensitive skin, let them know so they can use the appropriate products for your skin.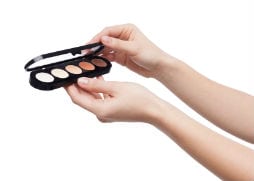 Do They Also Do Hair
Being a makeup artist in one thing but being able to do makeup and hair is an extra bonus. Choosing a company that can do both will save time with research and communication between both. Rather than hiring two different companies who have to try to work together, hiring a company that does both makes your life easier. They can work together to create the whole wedding hair and makeup look for you.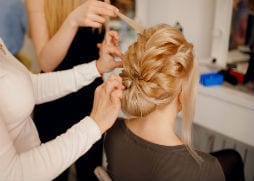 Size Matters
Whether you need only hair and makeup for yourself or for a large group. You need to make sure the hair and makeup artist can support you or your group. No one wants to wake up at the crack of dawn to get their makeup and hair done and not be able to relax all day. This can be resolved by hiring a company that has a team to accommodate your group size. It is a good idea to check that they do not have a minimum or maximum when doing your research.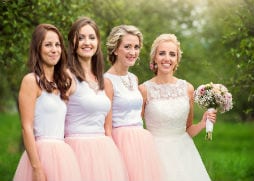 Traveling To Your Location
Going to a hairdressing salon is a nice relaxing time. But when it comes to your wedding day the last thing you want to do is all pile into a car and drive to a salon. Choosing a hair and makeup artist that comes to where you are all getting ready is the best way to go. Everyone can relax and enjoy a wine or two in the comfort of your chosen location. Just make sure that the artist will travel to your location and check for travel fees before making your final decision.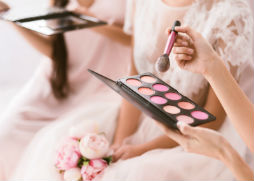 Budget And Pricing
Once you start looking around for your wedding hair and makeup artist, you will notice some charge higher amounts than others. Depending on your budget will depend on what type of artist you will get. A hair and makeup artist that has full qualifications and years of experience will be more expensive. Most professional artists will charge between $100-$250 for hair and makeup styling. Look at what packages they have and discuss with your ideal artist what they can do for you.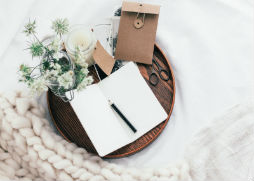 To conclude, finding your perfect wedding hair and makeup artist can be abit daunting at first. Once you've factored in everything you want and have chosen your perfect look for the day, your wedding hair and makeup artists will be there to do the rest. At the end of the day, we hope that you look and feel Perfectly Beautiful.