Want an updo for your Brisbane wedding but have short or medium-length hair? You don't have to worry! Contrary to popular belief, waist-length locks are not necessary to create an elegant updo. Whether your hair goes down to your chin or your shoulders, a talented wedding hair stylist Brisbane should have no problem helping you achieve your ideal look.
Before you book an appointment, check out these amazing updos for wedding hair inspiration!
Crown Braid
This classic style is ideal for those with chin- to shoulder-length hair. To create a queen braid, your wedding hair stylist in Brisbane will weave a Dutch braid along your hairline. If your hair isn't long enough to create a braid that wraps around your head, your stylist may weave two braids and tuck in the ends under your hair for a seamless look. Alternatively, they may use extensions to add volume and a little bit of length.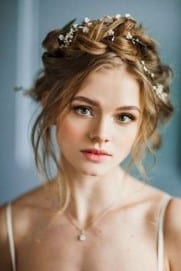 Low Bun
One of the most versatile hair styles for medium-length hair, this updo can be made to look laid-back and romantic or sleek and modern. It's also much easier to achieve than a traditional top knot. Depending on what look you want to achieve, your wedding hair stylist in Brisbane can pin your hair loosely at the nape, create a pull-through braid or twist it into a messy chignon. For added visual interest, you can accessorise with a bejewelled barrette, flower clip or bridal hair vine.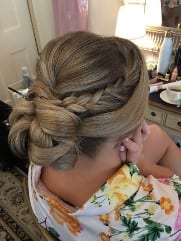 Faux Updo
If your hair is too short to be braided or pinned, consider a faux updo. To get this look, hair is separated into four sections: one section on top and three sections on the back of the head. Hair is then volumized and texturized using mousse.
To create the look of an updo, your wedding hair stylist in Brisbane will pin the middle section up. The sections on either side of the face will be twisted back and pinned to the middle section. Finally, your stylist will add more volume to the top section before pinning it to the rest of your hair. The result is a style that is as elegant and sleek as a traditional updo.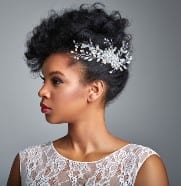 Braided Updo
Weaving hair from the nape with the braids ending at the top of the head creates the appearance of an updo. This look is great for brides with curly or wavy medium-length locks who want a 'do that's out of the ordinary. Curling the ends of the braids and pinning them into place gives this style a playful look that's perfect for fun-loving brides.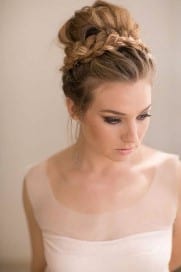 Vintage Victory Rolls
If you're going to have a retro-themed wedding, consider victory rolls. To achieve this style, your wedding hairstylist in Brisbane will roll sections of hair away from your face, pinning to the top of your head.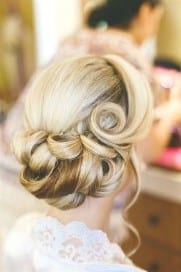 Wedding Hairstyles That Are Uniquely You
Short-haired Brisbane brides don't have to sacrifice their signature 'do for their special day. It's important to choose a hairstyle that you feel comfortable wearing and can look back on without regrets.
For short hair updos, Perfectly Beautiful is your go-to wedding hair stylist in Brisbane. You can trust our team to create styles that showcase your beauty and individuality. Reach out to us today to book a free consultation!
At Perfectly Beautiful, we don't just help you with bridal hair and makeup. Brisbane brides trust us to help make sure they feel relaxed and pampered as we work our magic! To book a free consultation with our team, don't hesitate to get in touch.