Trends are always changing and we have noticed more brides opting to wear bridal hair accessories instead of a veil. Wearing a veil is traditional and a lot of brides still wear them and they look amazing and beautiful. There are so many different styles, depending on whether you want one long, short. Or whether you want to have it over your face, or all to the back. However a lot of brides are swapping out the veil for other accessories in their hair. Perfectly Beautiful are here to explain the different bridal hair accessories you can wear instead of wearing a veil.
Flower Crown:
We have been finding a lot of brides choosing to wear a flower crown as their bridal hair accessories. Whether this be a real or a fake flower crown it is a beautiful look. A lot of brides are loving the Bohemian style wedding so are opting for a flower crown to fit in with their boho theme. Depending on your style, you can have coloured flowers or neutral tones. This is a really beautiful look, especially if you're opting to wear your hair down with curls, it really finishes it off and looks absolutely beautiful.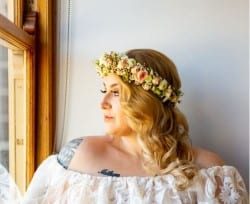 Flowers in your hair:
Nice simple flowers scattered through your hair. This is a beautiful simple bridal hair accessories that can be applied to whatever hair style you decide on. Have the florist order you some extra flowers from your bouquet to pin into your hair. You could have your hair down with one side pulled back out of your face and a beautiful flower sitting there. Or In a low loose or structured bun with the flowers pinned into the back of the hair. Using flowers as an bridal hair accessories will give you a beautiful, simple and elegant look.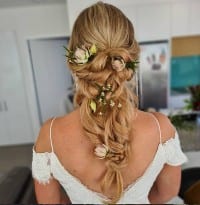 Beautiful princess tiara:
If you want to feel like a real princess on your wedding day the best bridal hair accessories to wear is a tiara. Tiara's are absolutely beautiful, especially if you're going to the elegant princess style wedding. You have the big puffy dress, the cinderella shoes and all you need in the tiara. If you choose to wear a tiara, you need a beautiful elegant hair style to compliment it. Whether it be down in a low structured bun or a high bun on top of your head, it looks absolutely beautiful with a tiara. Or you could even go with a low ponytail.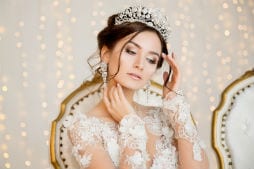 Sparkling Jewels:
We have also been finding our brides using a lot of jewels as bridal hair accessories. One of the most popular jewel hair accessories is a jewel vine that is twisted throughout the hair. There are also different clip in hair accessories with lots of jewels. You can find so many different colours in different shapes and sizes. They have become really popular and finish of the hair look.You can choose to have your hair down or up in any style you desire. Then find a jewel hair piece to match the bridal hairstyle you have chosen.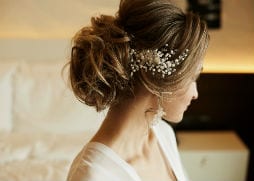 Elegant pearls:
Pearls are a very elegant sophisticated look. Whether that be a beautiful pearl clip or pins that have pearls on the end of it. You could have a twisted bun and have pearl clips or pins through the bun and twist. There are so many different hair looks and bridal hair accessories that you can pick from using pearls. If your dress or jewellery has pearls in it, it's a great way to compliment the look and tie it all in together.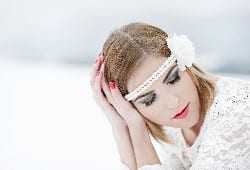 These days there are so many bridal hair accessories out there for you to choose from. If you want the traditional bridal look, then opt for wearing a veil. Or you can skip it and wear bridal hair accessories as well as the veil. But if you feel like you want to skip the veil then go for it. Have a look around and see what's out there. Get some inspiration on what you can do to match your wedding theme.