Autumn is a wonderful time to tie the knot in Brisbane. The cooler temperature means you won't have to worry as much about your makeup melting or smudging. Also, as any wedding hair stylist in Brisbane would tell you, your hair is less likely to frizz due to the heat or humidity as it would in summer. In addition, the gorgeous colours of fall are also great for hair inspiration.
If you're getting married in autumn, you can incorporate the season's signature hues of russet, gold, and muted green into your bridal hairstyle for a look that evokes the whimsical beauty of autumn. Whether your wedding hair stylist in Brisbane is doing your hair up, down, or somewhere in between, the following accessories can transform your hairstyle into the perfect autumn wedding 'do.
Autumn Leaf Antique Natural-Tone Headpiece
An antique white or copper headpiece with a design that features leaves and foliage will complement traditional bridal hairstyles. Wear it around a loose chignon for a look that's both classic and romantic.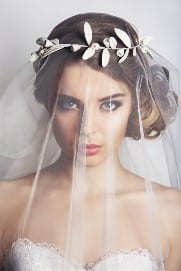 White Gold and Crystal Hair Vine
The muted shine of white gold sets off the cold sparkle of crystal in this pretty bridal hair accessory. If you're planning to wear your hair up, your wedding hair stylist in Brisbane can secure it to the side of your updo with a concealed wire comb. For a bohemian look, wear this hair vine entwined into beachy waves, loose curls, or a braid.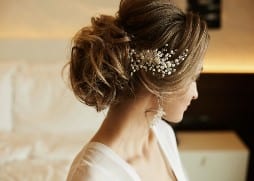 White Gold Leaf and Winter Berries Bobby Pin
A small spray of white gold-tone leaves and crystal berries add just a touch of autumn magic to a half-up, half-down 'do. Just one embellished bobby pin on one side of your hair adds colour and texture to a down 'do. Want to dial up the romance factor? Wear one on either side of your chignon. If you're not sure where on your 'do to place it, ask your wedding hair stylist in Brisbane for suggestions.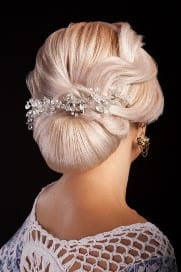 Crystal-Embellished Headband
Warm up your look with a simple, wide crystal headband in a pretty shade of wine or berry. Apart from being perfect for autumn brides, this hair accessory is also perfect for retro-themed weddings.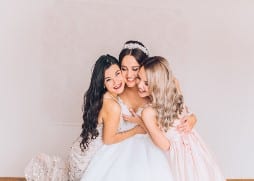 Bohemian Flower Crown
This isn't your typical '60s-inspired flower crown. Instead of bright flowers and green foliage, enamelled leaves, glass or crystal berries, and bronze or gold-tone accents adorn this accessory. It looks equally magical whether worn on top of tousled waves or around a meticulously styled topknot.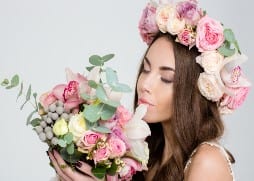 Autumn Wedding Hairstyles by Perfectly Beautiful
There are hundreds of bridal hairstyles to choose from. Once you've found the perfect one for you, rely on us at Perfectly Beautiful to make it a reality. As a trusted wedding hair stylist in Brisbane, we have helped countless brides achieve their dream hairstyle for their special day.
We can incorporate bridal hair accessories you've already chosen or give suggestions. Whether you plan on a whimsical, woodland-inspired autumn wedding or one that's modern and chic, we can create a look that perfectly matches your chosen theme. Contact us to learn more about our team and what we can do for you.
At Perfectly Beautiful, we don't just help you with bridal hair and makeup. Brisbane brides trust us to help make sure they feel relaxed and pampered as we work our magic! To book a free consultation with our team, don't hesitate to get in touch.