For Brisbane brides, the wedding dress might be of primary importance when planning the details of the wedding. However, makeup is also an essential part of the bridal look. As you walk down the aisle, all eyes will be on you. You'll also be frequently photographed, both by the official wedding photographer and your loved ones. Some of the photographs taken will wind up in your wedding album as well as your friends' and family's social media accounts. For these reasons, it's only natural for you to want to look your best.
Many wedding makeup artists present airbrush makeup as the ideal solution—but is it right for you? Choosing how you want your makeup applied is an important decision, so before you decide, make sure you're fully informed.
What Is Airbrush Makeup?
Airbrushing is a technique that involves applying makeup using an airbrush gun. This device sprays product in a fine mist, creating a thin, even layer. Depending on how much coverage is needed, more layers may be applied.
There are three types of liquid foundation that can be applied using this method: silicone, alcohol and water-based. Silicone-based makeup is popular because it is highly water-resistant. It can also help control oil, preventing shininess from showing up in wedding photos.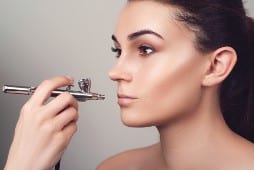 Pros and Cons of Airbrush Bridal Makeup
Applied correctly by a skilled MUA, airbrush foundation creates a matte finish without sponge or brush marks. It provides an ideal base for a variety of makeup looks. Depending on the type and amount of product you use, it can give light to medium coverage, evening out skin tone and blurring minor imperfections. The result is skin that looks flawless in person and in high-definition photos as well as videos.
In addition, airbrush makeup is long-lasting. It will withstand heat and humidity, so you won't have to worry about it melting or smearing. It also won't smudge even if you cry happy tears!
Like any method of makeup application, airbrushing has its downsides. For instance, your skin needs to be well-hydrated and facial hair must be removed to ensure an even finish. If your skin is very dry, the makeup may look patchy and flaky.
Also, airbrush foundation may not provide enough coverage for larger skin imperfections such as cystic acne and scarring. On the other hand, traditional makeup is applied by hand and can be layered to fill in scars and address other skin texture issues. It is also more opaque and provides more coverage than its airbrush counterpart.
Fuller coverage may be achieved with more layers of airbrush foundation, but it takes a skilled makeup artist to pull this off. One more thing to keep in mind is that airbrush makeup tends to be a bit pricier than traditional makeup.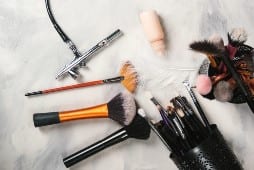 Book a Wedding Makeup Trial With Perfectly Beautiful
Many celebrities love airbrush makeup because it makes their skin look amazing at red carpet events, and brides worldwide also swear by it. However, what works for others may not work for you. To find out for sure if traditional or airbrush bridal makeup is right for your skin type and coverage needs, book a trial with the Perfectly Beautiful team!