Most Aussie brides-to-be dream of looking and feeling like a queen on their wedding day. With everything else done perfectly, your bridal hair and makeup must be on point at all times. But with so many options for hair and makeup, Brisbane brides might have trouble finding 'the one'. Why not go for the trendiest, then? Here are three of the most preferred bridal hair and makeup styles.
Beautiful Boho Babe
If you are looking for a hair-and-makeup style that works well with outdoor weddings, this is the ideal choice. It draws from various hippie and bohemian influences. Whether you're saying 'I do' in a garden or on a beach, no wedding hair and makeup in Brisbane looks more ethereal than boho-chic.
To achieve boho-chic bridal hair and makeup for Brisbane weddings, you need various colours, textures, layers and accessories. Braided hairstyles, flower crowns and beach waves, along with all-natural makeup and earthy tones, achieve that elegant yet understated look. Finish it with simple bohemian accessories and you're good to go.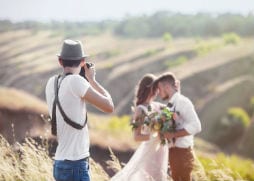 Graceful and Glam
If you are holding the ceremony and reception at a high-end venue, you better bring on the glam with gorgeous Hollywood hairstyles and dramatic makeup. To achieve that fabulous wedding hair and makeup, Brisbane brides usually opt for side-swept curls or a regal cascading updo.
For makeup, try smokey eyes with shades of gold or bronze, winged eyeliner, falsies and red or pink lipstick. Then, take your pick from different statement pieces, such as jewelled hair clips, earrings, tiaras, headbands and necklaces. Just be careful not to overdo your accessories.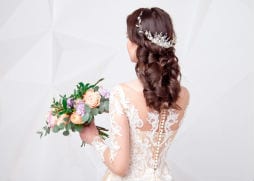 Classy and Classic
You can never go wrong with traditional church weddings. This principle also applies to classic hair and makeup for Brisbane brides. Channel your inner royalty as you grace your guests with an effortless look on your special day. Some A-list brides from Hollywood like Beyoncé and Chrissy Teigen had the world bowing at their feet as they walked down the aisle. This inspired others to go vintage for their wedding hair and makeup, Brisbane beauties included.
If you want to look like a classic bride on your big day, a sleek and smooth updo or a traditional chignon will do the trick. A half updo with loose curls is also a great choice, along with blushing bride makeup that accentuates your natural beauty.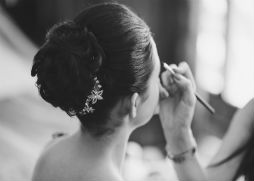 Captivate the Crowd on Your Wedding Day 
The best wedding accessory is confidence! This is something you can achieve when you know you look and feel beautiful from head to toe. To avoid stressing out on their bridal hair and makeup, Brisbane brides hire professional makeup artists to work their magic. Why not do the same? Simply choose the look that matches your theme, and get ready for one of the most memorable days of your life.